The PURPOSE of Global Exposure Guidelines to these EMFs is to Protect the Public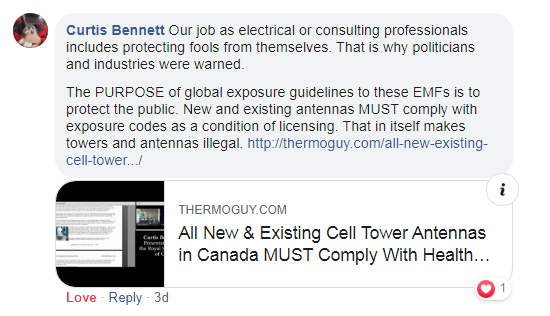 Is the BioInitiative Report inclusive of all life and infrastructure on the Planet?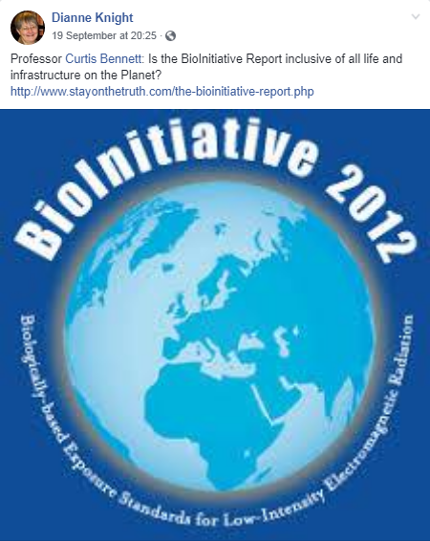 Curtis Bennett: 'No, the BioInitiative Report isn't addressing the illegality of buildings and all buildings no longer being compliant with Building Codes. BioInitiative isn't addressing nuclear failure within borders with 454 nuclear power plants globally being radiated.

They are not dealing with medical diagnosis being changed, all sciences changed.
http://thermoguy.com/submission-for-canadian-nuclear-safety-commission-on-rf-emfs-causing-accelerated-corrosion-making-the-power-plants-non-compliant-with-building-codes/ '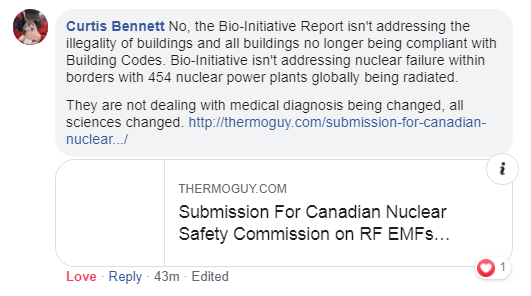 Call Transcript Segments Mentioning the BioInitiative Report
Curtis: ...Imagine this - I got Dr. Goldberg to read
62:16
the BioInitiative Report and it's 1,500
62:19
pages, and here is all this peer-reviewed
62:22
science from all of these people - to
62:24
Devra Davis - everybody that's done a
62:27
report on these things. And he said at
62:30
the end of it, he said "You are
62:31
electrically substantiating them" and
62:34
that just means we're not competing with
62:37
them; we are qualifying them, where before
62:40
they were being dismissed by people
62:43
that would say "Prove it. Prove the
62:44
mechanisms", instead of...and here we are again;
62:47
they shouldn't have to get into a peeing
62:49
contest about a plastic head or doing
62:51
those types of things. The fact that
62:53
these these professionals were dismissed
62:55
and minimized and Olle Johansson, you
62:58
know, as part of the Karolinska Institute
63:00
which is where the Nobel Prizes are handed
63:03
out, and rumor has it now that he doesn't
63:04
even get to work there anymore because
63:06
he has continued on about these EMF
63:08
issues and it's just horrific that
63:11
they've minimized him and and been
63:13
so disrespectful to Martin Pall and you
63:17
know it doesn't matter which
63:18
professional it is - you go down the line...

Dianne: Is the Integrative
73:44
Health Forum and Global program
73:50
the only one that is inclusive of all
73:53
lives as compared to the BioInitiative
73:56
Report and all the other [EMF] summits out
73:59
there now?...Curtis: ...the Integrative
73:44
Health Forum and Global program,
73:50
the only one that is inclusive of all
73:53
lives, as compared to the BioInitiative
73:56
Report and all the other [EMF] Summits out
73:59
there now; it is the only one. Even
74:02
actually they just had some
74:05
type of an EMF conference in California
74:07
where they said you know that's the
74:08
first accredited medical education
74:10
program on EMFs and that's just not the
74:13
truth. The first one happened with the
74:15
Integrative Health Forum in 2011, January
74:17
7th and 8th [8th and 9th]. They're the best in the
74:20
world, without exception.


Dianne:
...I can't even
98:35
begin to count the hours that you
98:37
invested in me when I could barely hold
98:40
the telephone. I've been terrorized by
98:44
one of the people who was a primary
98:46
lecturer for the
BioInitiative Report
98:49
saying here's where we draw the line and
98:51
everybody below that line [
ALARA protocol
]
is supposed to
98:53
die. It took you two years to gain my confidence that
99:03
you were better than all these other
99:04
guys
Q & A Follow Up to 'Checkmate Is Here NOW!'
Adjunct Professor Curtis Bennett
Curtis: ...Here's
72:46
what happened in Ontario, in Mississauga.
72:48
An 11 year old girl goes into an
72:51
emergency room with her parents
72:53
and they..."She's just got a flu". So they
72:56
just send her home. The next day she goes
72:58
back and "She's got a flu" again and just
73:00
send her home. The third day she comes
73:02
back in there and the mother hears the
73:04
hospital say:
73:05
"She's dead" and they actually had to
73:07
revive her and it turns out - that you
73:09
know - they had to do surgery. She lost an arm and a
73:11
leg because of a very aggressive
73:14
infection, and imagine this now - the costs -
73:18
because now you're going to have a
73:19
hospital and these poor medical
73:21
professionals - you know they could have
73:23
seen that in five minutes. They could
73:25
have seen that immediately. Instead now
73:27
the hospital is liable. You're going to
73:29
have medical professionals liable - the
73:31
cost of the health system - never mind the
73:33
cost to this poor little peanut losing
73:36
an arm and a leg, and her family when it
73:38
didn't have to happen.





Educational and Informational Purposes: All information on this site and all links that are linked to from StayOnTheTruth.com represent solely the opinions of their producers.

The views and opinions expressed are those of the authors and do not necessarily reflect the official policy or position of any other person or any agency or any entity.

This information and links to more information are made available to you as a resource for your own research and evaluation not as an endorsement.

StayOnTheTruth.com is not in the business of persuading you or anyone else to believe anything that that is presented or linked to from this site; however, it does encourage you to use all available resources to form your own judgement about very important things that affect your life.
Fair Dealing and Fair Use Notice: The material on this site is provided for educational and informational purposes. It may contain copyrighted material the use of which has not always been specifically authorized by the copyright owner. It is being made available in an effort to advance the understanding of scientific, environmental, economic, social justice and human rights issues etc. It is believed that this constitutes a 'fair dealing' or 'fair use' of any such copyrighted material as provided for in copyright law. In accordance with the Fair Dealing or Fair Use intention, the material on this site is distributed without profit to those who have an interest in using the included information for research and educational purposes. If you wish to use copyrighted material from this site for purposes of your own that go beyond 'fair dealing' or 'fair use', you must obtain permission from the copyright owner. The information on this site does not constitute legal or technical advice.
© Copyright 2021. All Rights Reserved. "Stay On The Truth", Dianne Knight