Canada and Provinces Missing Critical Temperature Data Related to Climate Change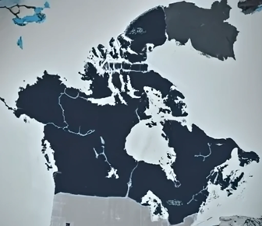 by Adjunct Professor Curtis Bennett
Political parties and administration are not supposed to prohibit professionals they certify from getting information through to leadership so they can simply do their jobs in representing the public. The Canadian Government has committed to spending billions of taxpayer's dollars to address climate change except it is impossible to develop effective policy if you have flawed science. Canadian provinces have each committed to spending hundreds of millions of dollars to address climate change as it is considered to be the biggest threat to the world's health, economies and extinction of species. The bottom line is we don't want to generate heat atmospherically because the heat changes the weather formula. Those changes are global as we share one atmosphere and one water supply regardless of our countries borders.
The CO2 theory of heating the atmosphere originated because academia is blind to temperature beyond our visible spectrum. As a building design professional with a separate education in electrical energy provision(I design for and generate GHG emissions), my education considered building design temperatures in a calculator with the greatest of accuracy. That accuracy depends on the inputted information being accurate or the calculations are wrong.
Environment Canada, Meteorological Services provides the building design criteria for the entire country and they supply that important data through building codes. The purpose is to build within regional temperatures and use our energy efficiently so we produce less GHG emissions. Canada's climate change policy and emissions calculations are based on buildings functioning within their design criteria.
It is hard to imagine that the entire national to municipal building, development and energy consumption(GHG emissions) is signed off as compliant, then insured based on compliance with codes. Every member of the United Nations is blind to the temperatures we design with and assumes compliance.
Thermografix Consulting Corporation completed several years of advanced temperature imaging to verify building compliance with design temperatures and the results contradicted their own building professionals education. Solar radiation including the same UV that burns our skin is causing buildings to generate extreme heat the buildings aren't designed, insulated or insured for. The provinces, the Canadian Government are responding to symptoms without dealing with the source of the heat. We use low-e windows, alternative, cheaper energies that give the illusion of energy savings. Low-e windows are used because it is assumed that solar gain is coming through the windows when in fact the heat is coming through walls and roofs that aren't designed or insulated for the heat generated. Geo thermal and other alternative energy sources are used except they are not addressing the extreme heat the building isn't designed for. Any energy system is only going to function according to how the building envelope is performing. (The building envelope is the insulated exterior walls, floor and roof.)
Even though the solar radiation information conflicted with academia that trained us, our jobs as objective professionals is to take this to leadership as an unprecedented emergency because buildings as a rule were being negatively impacted by solar radiation. As the science professionals, our job is to take this to administrators because there were easy fixes to the issue at developer's expense. There wasn't a blame assigned, solar impact couldn't be seen and had never been qualified. Administrators and policy advisors require accurate science to do their jobs.
In 2003, the province of British Columbia had a devastating forest fire season. They had a 50 million dollar budget except the costs were reported to be over 500 million without indirect costs. BC fought the forest fires blind and our volunteered participation was ignored several times even though we offered unobstructed sight of the fire through the smoke. I was the only person that saw the high category forest fire coming through the smoke filled valley and I waved down a policeman to initiate evacuation of Kettle Valley on August 21st. On the 22nd of August, hell came to town and burned down hundreds of homes in Kelowna. One of the largest evacuations in Canadian History took place with 1/3 of the city's population being evacuated.
Here is how politicians and a weakened professional gene pool handled the public inquiry regarding the BC Government's handling of the forest fire season. I presented at the public inquiry in Kelowna and showed graphic visual images of the fire through the smoke while the government had issued press releases about the problems of fighting the fires because of being blind by the smoke. I presented that solar impact on building development was changing the weather equation that led to the drier seasons and lighting strikes. I reported the information as an unprecedented emergency to a public inquiry after a forest fire interfaced with Kelowna, B.C. where over 240 homes were lost in one of the biggest evacuations in Canadian history. I explained to the panel that the Canadian Government was missing this important information and needed it to represent Canadians as well as to pass it on to other countries of the world.
The BC Premier's office called me before the public inquiry and asked what I was going to present at the public inquiry. I told the Deputy Minister that it was a conflict for him to call me when their was an upcoming inquiry into his office's handling of the fire season. I told him the government was negligent in their handling of the fire season and let the fires rage, causing additional hundreds of millions in damage when they knew there was a simple imaging application that would have given fire fighters unobstructed sight through smoke without changing fire command. That same deputy minister that called from the Premier's Office was a member of the inquiry panel when I presented in Kelowna in 2003. Kelowna Mayor Sharon Shepherd was a council member at the time and congratulated me on my presentation.
When the Filmon Inquiry was published, my presentation and attendance at the inquiry were edited out of the public inquiry that cost taxpayers over 500 million dollars. The premier's office(the same Deputy Minister) reported to me that the entire inquiry was based on audio presentations and because my presentation included visual information, it was edited out of the entire inquiry. The government was taping the inquiry and told me they lost the audio feed during my presentation. Go to the following link to see the visual information excluded from a public inquiry. None of the information was passed on to California who is reporting 10 billion in fire costs in 2008.
http://thermoguy.com/forest-fires/
Since then the BC Premier and their administration has failed to respond or even qualify information presented to them within existing building code by qualified professionals. Go to the following link to see what the world has been missing regarding climate change.
http://thermoguy.com/global-warming/heat-gain/
Go to the following link to see how buildings are using and losing energy during the winter months for heating.
http://thermoguy.com/global-warming/heat-loss/
Due to the Premier's administration not passing on information by professionals with emission backgrounds, United States Western Governors and Western Canadian Provinces were issued this letter pertaining to missing climate change information.
http://thermoguy.com/wp-content/uploads/Western_Climate_Initiative_Partners_2007.pdf
The Premier not passing on information to the national leadership required us to forward the information through Environment Minister and Prime Minister of Canada. The Environment Minister has absolutely no background in emissions and doesn't know how or what creates them. The Prime Minister has no background in emission creation and is publicly documented as not even believing in climate change. We approached that leadership and asked for an audience based on an unprecedented environmental emergency. You would think when a person with qualifications provided by the Prime Minister reports a 911, the response would be immediate. The Prime Minister and Environment Minister have not contacted us or even attempted to qualify the information at the links above. Instead they are developing policy based on important missing criteria. Their administration has blamed economy for the emissions when it simply isn't true. Here is a link to the letter sent through my elected Member of Parliament Ron Cannan and again, there isn't a qualified response.
https://thermoguy.com/wp-content/uploads/Ron_Cannan_20101.pdf
The Canadian Environment Minister issued a press release September, 2007 regarding Canada's aggressive stance on the elimination of ozone depleting refrigerants. He challenges the UN members to do the same at the Montreal Protocol without the understanding that Canada is using refrigerants in 100% of their new construction to treat the symptom of climate change. Canada's codes call for the elimination of refrigerants while we use refrigerants in 100% of our building applications responding to symptoms.
Adjunct Professor Curtis Bennett




Educational and Informational Purposes: All information on this site and all links that are linked to from StayOnTheTruth.com represent solely the opinions of their producers.

The views and opinions expressed are those of the authors and do not necessarily reflect the official policy or position of any other person or any agency or any entity.

This information and links to more information are made available to you as a resource for your own research and evaluation not as an endorsement.

StayOnTheTruth.com is not in the business of persuading you or anyone else to believe anything that that is presented or linked to from this site; however, it does encourage you to use all available resources to form your own judgement about very important things that affect your life.
Fair Dealing and Fair Use Notice: The material on this site is provided for educational and informational purposes. It may contain copyrighted material the use of which has not always been specifically authorized by the copyright owner. It is being made available in an effort to advance the understanding of scientific, environmental, economic, social justice and human rights issues etc. It is believed that this constitutes a 'fair dealing' or 'fair use' of any such copyrighted material as provided for in copyright law. In accordance with the Fair Dealing or Fair Use intention, the material on this site is distributed without profit to those who have an interest in using the included information for research and educational purposes. If you wish to use copyrighted material from this site for purposes of your own that go beyond 'fair dealing' or 'fair use', you must obtain permission from the copyright owner. The information on this site does not constitute legal or technical advice.

© Copyright 2023. All Rights Reserved. "Stay On The Truth", Dianne Knight