Battered Biden under siege as crises confound the White House
Wednesday, May 12, 2021 at 8:39 AM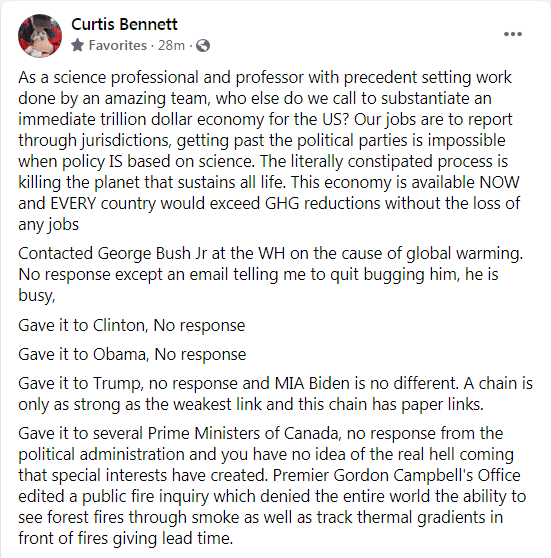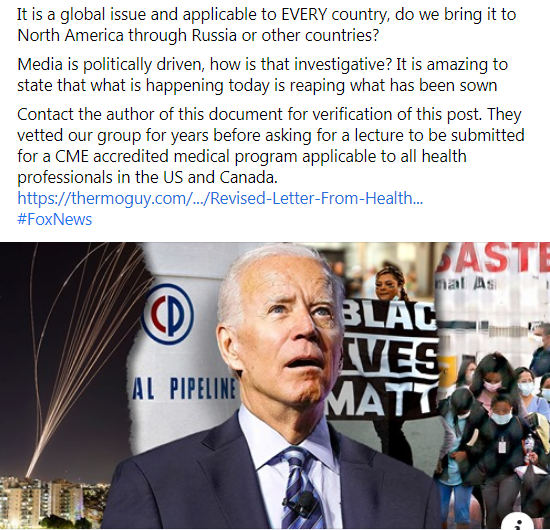 As a science professional and professor with precedent setting work done by an amazing team, who else do we call to substantiate an immediate trillion dollar economy for the US? Our jobs are to report through jurisdictions, getting past the political parties is impossible when policy IS based on science. The literally constipated process is killing the planet that sustains all life. This economy is available NOW and EVERY country would exceed GHG reductions without the loss of any jobs
Contacted George Bush Jr at the WH on the cause of global warming. No response except an email telling me to quit bugging him, he is busy,
Gave it to Clinton, No response
Gave it to Obama, No response
Gave it to Trump, no response and MIA Biden is no different. A chain is only as strong as the weakest link and this chain has paper links.
Gave it to several Prime Ministers of Canada, no response from the political administration and you have no idea of the real hell coming that special interests have created. Premier Gordon Campbell's Office edited a public fire inquiry which denied the entire world the ability to see forest fires through smoke as well as track thermal gradients in front of fires giving lead time.
It is a global issue and applicable to EVERY country, do we bring it to North America through Russia or other countries?
Media is politically driven, how is that investigative? It is amazing to state that what is happening today is reaping what has been sown
Contact the author of this document for verification of this post. They vetted our group for years before asking for a lecture to be submitted for a CME accredited medical program applicable to all health professionals in the US and Canada.https://thermoguy.com/wp-content/uploads/Revised-Letter-From-Health-Education-Admin-2019-1.pdf #FoxNews
Copyright © 2021 Thermoguy. All rights reserved.
Battered Biden under siege as crises
confound the White House

Remarkable 5 days of bad developments stretching from Israel
to Mexican border, up East Coast via Colonial Pipeline
By Keith Koffler | Fox News
National Security threats overwhelm Biden administration
Former Assistant Secretary of State under President George W. Bush Robert Charles provides insight.
Memo to
President Biden
: Life moves pretty fast, and now the world is on fire.
Israel is erupting, Americans are utterly confused when masks should be worn for
COVID-19
protection and then there are the agita-inducing
long lines for gasoline
.
And that was just Tuesday.
A lot has changed in a matter of days.
Friday was supposed to be a glorious day for Biden. The latest employment numbers were set to be released, and economists were gushing that a million new jobs had likely been created in April by exuberant employers and their newly vaccinated workers.
His team no doubt was prepared to unleash Biden to perform a little victory dance at the
White House
celebrating the stupendous number. But the show had to be hastily revamped when the actual tally came in nearly three-quarters-of-a-million jobs lower than expected;
just 266,000 jobs created
and unemployment unexpectedly rising to 6.1%.
"You might think we should be disappointed," Biden said, which was indeed something people might think. But the American Rescue Plan he signed into law in March "was designed to help us over the course of a year — not 60 days," he said.
Far from being a disappointment, a jobs report that included 734,000 jobs fewer than expected was good news.
"Today, there is more evidence our economy is moving in the right direction," Biden said. "This is progress. This is a testament to our new strategy," he said. "We've got work to do, to state the obvious, we have work to do."
You might think.
The jobs figures were just the first in a series of out-of-nowhere body blows hitting the president during a remarkable five days of bad developments that stretched from Israel to the Mexican border and up the East Coast via the Colonial Pipeline.
After delivering a few remarks Friday, taking in the "Weekly Economic Briefing" and meeting with his "Jobs Cabinet," the president knocked off at 5:45 pm and headed for the peacefully wooded Catoctin Mountain Park, where the presidential refuge Camp David awaited in Maryland.
He was ready for a rest, but the world wasn't ready to give him one.
By Saturday morning, the Colonial Pipeline, which transports nearly half of the East Coast's fuel supplies up from Texas, had been turned off, the victim of a ransomware cyberattack by a group of nasty hackers who, by the way, might be working with the Russian government. Biden was "briefed" on the situation Saturday morning.
Adjunct Professor Curtis Bennett




Educational and Informational Purposes: All information on this site and all links that are linked to from StayOnTheTruth.com represent solely the opinions of their producers.

This information and links to more information are made available to you as a resource for your own research and evaluation not as an endorsement.

StayOnTheTruth.com is not in the business of persuading you or anyone else to believe anything that that is presented linked to from this site; however, it does encourage you to use all available resources to form your own judgement about very important things that affect your life.
Fair Dealing and Fair Use Notice: The material on this site is provided for educational and informational purposes. It may contain copyrighted material the use of which has not always been specifically authorized by the copyright owner. It is being made available in an effort to advance the understanding of scientific, environmental, economic, social justice and human rights issues etc. It is believed that this constitutes a 'fair dealing' or 'fair use' of any such copyrighted material as provided for in copyright law. In accordance with the Fair Dealing or Fair Use intention, the material on this site is distributed without profit to those who have an interest in using the included information for research and educational purposes. If you wish to use copyrighted material from this site for purposes of your own that go beyond 'fair dealing' or 'fair use', you must obtain permission from the copyright owner. The information on this site does not constitute legal or technical advice.
© Copyright 2022. All Rights Reserved. "Stay On The Truth", Dianne Knight